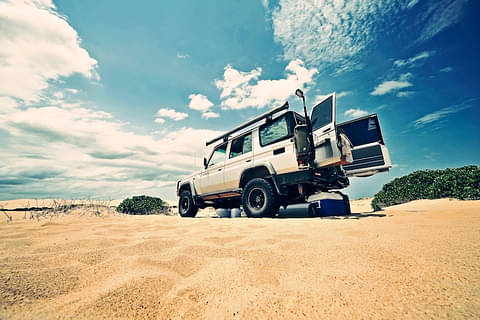 Explore the River City's beautiful neighbours, Fraser and Moreton Island, on a 2 or 3 day 4WD camping adventure.
Located 40km off the coast of Brisbane, Moreton Island includes an exciting selection of attractions, from Ben Ewa Bay to the famous Tangalooma Shipwrecks, Cape Moreton Lighthouse to the crystal-clear waters of the Blue Lagoon and also Mt Tempest, a multi-day camping tour lets you see and explore these sights (and more), while kayaking, swimming, snorkelling, sandboarding and hiking are also on the cards.
Out at Fraser Island, a plethora of natural beauty can be found in abundance, from Cooloola National Park with its towering sand cliffs, coloured sands and rainforest to Lake McKenzie and Lake Wabby, as well as Eli Creek and 75-Mile Beach, a multi-day camping tour of Fraser is perfect for those looking to escape the hustle and bustle of the city...without having to venture too far!
Check out our Brisbane camping deals below.