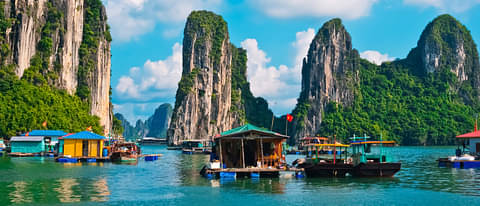 VIETNAM
Authentic experiences and unique activities in Vietnam.
View Best Deals
Experience a sensory overload.
The sight of the magnificent limestone cliffs at Halong Bay, the sound of the whizzing tuk-tuks in Hanoi, the smell of spicy street food, not to mention the taste! It really is a thrill for all the senses. Practice the ancient martial art of Vinh Xuan, learn how to make traditional Vietnamese desserts or try your hand at calligraphy - let's uncover an authentic Vietnam!
Check out our Vietnam deals below.
Need help planning your trip?
Click HERE to contact one of our Travel Experts and we'll be in touch ASAP.
Why our Travel Expert, Nicole, loves Vietnam:
"From sailing past limestone rock formations in beautiful Halong Bay, exploring the colourful markets and pristine beaches in Hoi An, Nha Trang and Phu Quoc Island, learning about the fascinating history in Hue, Ho Chi Minh and Hanoi and exploring off the beaten track natural wonders; there is so much to see and do in Vietnam! I love Vietnam because the people are welcoming, you can enjoy delicious, fresh food specialties all around the country and even learn to cook new recipes like Pho if you are keen!"