2 Day Margaret River Getaway - Wine & Food
A perfect trip for wine & food lovers - discover Margaret River's best wineries, breweries, and local dishes.

Perth, Australia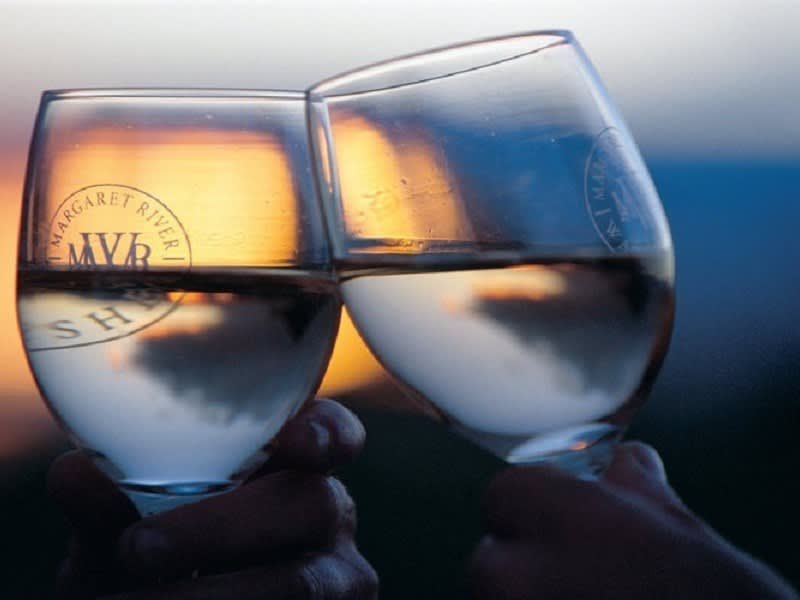 or 6 weekly interest free payment from
$155.33
with

Not available

Instant confirmation
What's Included
1-night accommodation
4 meals and wine tasting
Transportation: coach
Why do we love this
Once you join this tour, you will be taken on a unique gastronomic journey celebrating the region's best food and wine artisans. Discover Australia's best chocolate made fresh by a true craftsman. Explore Busselton Jetty which is the longest wooden jetty in the southern hemisphere can be found in Busselton, stretching 1.8 kilometres across the idyllic Geographe Bay. Also, you get to visit Margaret River Brewery and Mammoth Cave.
WHAT TO EXPECT
Day 1 - Perth to Margaret River Wine Region
We travel south from Perth driving through farmland with grazing cattle and passing by the coastal towns. Arriving at Busselton, known as the gateway to the Margaret River Region, we stop for morning tea (own expense) to view the iconic Busselton Jetty, the longest timber jetty in the Southern Hemisphere. Driving into the heart of the region we head to one of Margaret River's oldest breweries for a gourmet platter lunch of local produce, with complimentary beer and cider tastings. Following lunch, we continue south through the forest to an internationally renowned winery to taste some of their best award-winning wines, whilst gaining industry insights on wine production with the opportunity to purchase. Next, it's on to Mammoth Cave for a guided tour through this gothic cave with vast chambers that reveal fascinating information on the region's flora and fauna. Continuing south, through the Boranup Forest of enormous Karri Trees we reach the most fascinating part of the region at Augusta. Here at Cape Leeuwin Lighthouse, marvel at the dividing point between the Southern and Indian Oceans a rare phenomenon to view the meeting of two oceans. Then we head north up to the township of Margaret River to take you to check-in to your chosen accommodation option.
Day 2 - Full Day Wine Tour to Margaret River to Perth
Enjoy a sleep-in and breakfast at your hotel before your 09:30 checkout; please store your bags at the reception in time for a 09:00 - 09:30 departure. Continuing on for the day, join your Margaret River Food Lovers Tour and discover how they capture the magic of local ingredients and the passion of their people, to create an exclusive and unforgettable experience. After indulging at all these beautiful stops it's time to collect your luggage from the hotel as you will now be re-joining your Coach Captain for the drive back to Perth stopping for a light dinner along the way. (Dinner at own expense).
What to bring: Hat, sunscreen, beach towel, small water bottle, camera and a warm jumper or windproof jacket.
What to wear: Comfortable non-slip sturdy walking shoes.
Terms & Conditions:
Child rates are applicable for 4 to 12 years.
Infant of 0 to 3 years are carried free of charge.
Above 13 years will pay the price of adults.
We are happy to cater for special medical dietary requirements on request and with advance notice. Please advise your preference at the time of booking.
Concession fares apply to holders of senior or pensioner cards and full-time students.
Card membership numbers must be quoted at the time of booking.
Not included: Travel insurance.
Adina Apartment Hotel Barrack Plaza (Barrack Street) at Kings Perth Hotel (525 Hay St, Perth)
Adina Apartment Hotel Perth (Mounts Bay Road) at Parmelia Hilton Perth
All Suites Perth at Travelodge
Aloft
Barrack Street Jetty Tourist Stop (Pier 3)
Show all pickup locations
Adina Apartment Hotel Barrack Plaza (Barrack Street) at Kings Perth Hotel (525 Hay St, Perth)
Adina Apartment Hotel Perth (Mounts Bay Road) at Parmelia Hilton Perth
All Suites Perth at Travelodge
Aloft
Barrack Street Jetty Tourist Stop (Pier 3)
Billabong Backpackers at Great Southern Hotel (formerly Ibis Styles)
Britannia on William at Northbridge Coach Bay (180 William Street)
Citadines St Georges Tce at Parmelia Hilton Perth
City Stay Apartment at Gordon St Coach Bay
City Waters Lodge at Pan Pacific Hotel
Comfort Hotel at Mantra on Hay
Comfort Inn and Suites Goodearth Hotel at Pan Pacific Hotel
Comfort Inn Wentworth at Holiday Inn City Centre
COMO - The Treasury at Kings Perth Hotel (525 Hay St, Perth)
Criterion Hotel at Kings Perth Hotel (525 Hay St, Perth)
Crown Metropol at Crown McDonalds Riverside
Crown Promenade at Crown McDonalds Riverside
Crown Towers at Crown McDonalds Riverside
Crowne Plaza Perth
Doubletree by Hilton Perth Northbridge at Northbridge Coach Bay (180 William Street)
Doubletree by Hilton Perth Waterfront at Barrack Street Jetty Tourist Stop (Pier 3)
Duxton Hotel
Emperors Crown at Northbridge Coach Bay (180 William Street)
Four Points by Sheraton
Fraser Suites Perth at Hyatt
Gordon St Coach Bay
Great Southern Hotel (formerly Ibis Styles)
Holiday Inn City Centre
Hyatt
Ibis Hotel at Holiday Inn City Centre
Ibis Styles East Perth (pickup at Crowne Plaza Perth)
Intercontinental Perth City Centre at Holiday Inn City Centre
Kangaroo Inn at Kings Perth Hotel (525 Hay St, Perth)
Kings Perth Hotel (525 Hay St, Perth)
Mantra on Hay
Mantra on Murray at Holiday Inn City Centre
Melbourne Hotel at Four Points by Sheraton
Mercure Hotel at Kings Perth Hotel (525 Hay St, Perth)
Miss Mauds Hotel at Kings Perth Hotel (525 Hay St, Perth)
Mont Clare Boutique Apartments at Mantra on Hay
Mountway Holiday Apartments at Rendezvous Hotel Perth Central
Nesuto Mounts Bay (Was Mounts Bay Waters Apartments) at Quest Mounts Bay Road
Northbridge Coach Bay (180 William Street)
Novotel Langley at Pan Pacific Hotel
Novotel Perth Murray Street (pickup at Holiday Inn City Centre)
Ozi Inn at Great Southern Hotel (formerly Ibis Styles)
Pan Pacific Hotel
Parmelia Hilton Perth
Pensione Hotel at Kings Perth Hotel (525 Hay St, Perth)
Peppers Kings Square Hotel at Four Points by Sheraton
QT Perth at Kings Perth Hotel (525 Hay St, Perth)
Quality Hotel Ambassador Perth at Pan Pacific Hotel
Quay Perth at Barrack Street Jetty Tourist Stop (Pier 3)
Quest East Perth at Pan Pacific Hotel
Quest Mounts Bay Road
Quest West End Apartments at Four Points by Sheraton
Ramada Outram Hotel
Regal Apartments at Mantra on Hay
Rendezvous Hotel Perth Central
Rendezvous Hotel Scarborough
Ritz Carlton at Barrack Street Jetty Tourist Stop (Pier 3)
Riverview Hotel on Mount Street at Rendezvous Hotel Perth Central
Sage Hotel at Ramada Outram Hotel
Seasons of Perth at Kings Perth Hotel (525 Hay St, Perth)
Sullivans Hotel
Taxi Rank Riverside Entrance Crown Metropol
The Adnate at Holiday Inn City Centre
The Alex Hotel at Northbridge Coach Bay (180 William Street)
The Richardson Hotel and Spa at Ramada Outram Hotel
The Westin Perth at Kings Perth Hotel (525 Hay St, Perth)
Travelodge
Underground Backpackers at Great Southern Hotel (formerly Ibis Styles)
Unspecified pickup location
Witches Hat at Great Southern Hotel (formerly Ibis Styles)
YHA Perth City at Kings Perth Hotel (525 Hay St, Perth)
or 6 weekly interest free payment from
$155.33
with

Not available

Instant confirmation

Add

ed

to wishlist
Best Price Guarantee

Free & Easy Cancellation

Up to 10% Cashback

100,000 5 Star Reviews