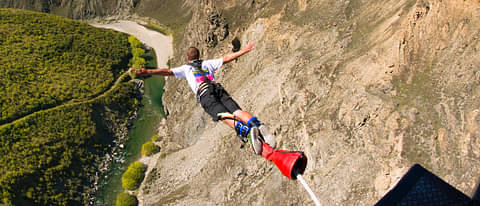 BUNGEE JUMPING
Go bungee jumping – the best bungee jumping deals
View Best Deals
Get Ready for a bungee jumping adventure you'll never forget!

Jump over the edge and experience the pure thrill of a bungee jump! Quite possibly the thrill of a lifetime, our bungee jumping experiences all around the world give thrillseekers the chance to freefall hundreds of feet in an adrenaline-fuelled day out!
Scared to jump out of your comfort zone? Make the ultimate travel memory by conquering your fears...from new heights!
Our bungee adventures are delivered in a safe environment with leading experts in the industry, who are there with you every step of the way; aside from the ACTUAL jump.
We've selected the best bungee deals in the most epic locations, whether it's bungee jumping in Queenstown, Taupo or Cairns - you're guaranteed a once in a lifetime experience. Or, combine your bungee jump with a zorbing experience, jet boat ride or helicopter flight for the ultimate adventure package.
Check out our bungee jumping deals below.
Bungee Jumping FAQ
What is bungee jumping?
Bungee or 'bungy' jumping is the activity of leaping from a high place while secured by a long nylon-cased rubber band around the ankles.

Who invented bungee jumping?
So this is an interesting one!
Technically, it was the indigenous people of Vanuatu who "invented" bungee jumping, with a guy from Oxford University's Dangerous Sports Club deciding to recreate it over the Clifton Suspension Bridge in the United Kingdom in 1979.
Then, New Zealand entrepreneur AJ Hackett came along, who took the idea and established the AJ Hackett Bungy in 1988, the oldest commercial bungee jumping operator in the world.

What are the benefits of bungee jumping?
For many, it's the natural high from the adrenaline and endorphins!

How do you prepare for bungee jumping for the first time?
Top tips include:
1. Jump with a reputable company. Make sure you jump with a reputable company with high safety and risk management procedures in place. ...
2. Bring a sense of adventure
3. Bring a friend for support
4. Trust the team looking after you
5. Wear something comfortable!

What are the best bungee jumping destinations?
Easily Cairns or New Zealand!

Who shouldn't go bungee jumping?
People who are overweight, pregnant, have heart problems, high blood pressure or neck/back/spinal injusried are advised not to bungee jump.

Is bungee jumping safe?
Absolutely! Just make sure you're booking through a reputable operator and stick to akk the health and safety guidlines.

Can you eat before you go bungee jumping?
It's advised not to eat too soon to bungee jumping since the momentum of it can cause you to feel nauseas.

What is the highest bungee jump in the world?
The AJ Hackett Macau Tower bungee jump officially ranks as the world's highest at 764 feet above ground - no thanks!